Early Years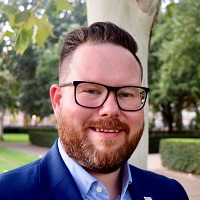 I was born in 1985 in the small town of Brookhaven, MS, and was raised there by a team of strong women: my mother, grandmother, and three aunts. I was curious to a fault, always asking questions, and loved telling long, tangent-filled stories. In school I quickly found two loves: public speaking and science. I began speaking in public as early as the second grade with a lead role in the school play and a speaker's part in the graduation ceremony. Between those two applause-filled events, I was hooked. When I wasn't speaking for a crowd, I was putting my linguistic chops to use convincing my teachers to let me bring my most recently "discovered" (read: copied from Beakman's World or Mister Wizard's World) science experiment to show the class.
High School
I spent the majority of my time outside of class working on public speaking in the forms of National Forensic League and Mock Trial competitions. I qualified for national speaking competitions the last three years of high school, traveling to Charlotte, NC; Atlanta, GA; and Salt Lake City, UT. What little remained of my free time was divided between Hugh O'Brian Youth (HOBY) Leadership Conferences, Scholars Bowl, Science Olympiad, National Science Bowl, and becoming an Eagle Scout with Boy Scout Troop 911. I graduated from Brookhaven High School as valedictorian in 2004.
College
I enrolled at the University of Mississippi as a member of the Sally McDonnel Barksdale Honors College. With four years of debate and mock trial under my belt, I quickly double majored in political science and biochemistry, with the intention of going to law school and becoming a health policy lobbyist. I soon realized that I hated going to my political science classes and loved going to my chemistry classes, so I changed my major to chemistry, fell in love with organic chemsitry, and didn't look back. As a freshman I began doing research under Dr. Daniell Mattern, working on synthesizing donor-sigma-acceptor compounds as potential "molecular electronics". I continued that work through my sophomore year, when a summer research experience (NSF REU program) at MIT helped me discover my love of biology. I worked with Dr. Peter Dedon in the Department of Biological Engineering, studying the effects of nitric oxide on human cells. For my senior research project, I returned to organic chemistry in the laboratory of Dr. Keith Hollis, studying the nanostructure properties of simple organic and organometallic compounds. When I wasn't in lab, I stayed busy competing with and helping to coach the UM Model United Nations team. I graduated magna cum laude with my B.S. in Chemistry in May 2008.
Graduate School
I was privileged and thrilled to be accepted to Ph.D. programs at the University of Michigan (Pharmacology), Harvard University (Chemistry), and MIT (Biological Engineering). While I loved the people at Michigan and the research at Harvard, I couldn't pass up the opportunity to attend my dream school. I became a member of the MIT BE graduate program in 2008, and soon rejoined the Dedon Laboratory. During my years at MIT I stayed busy both inside and outside the laboratory. I helped teach several graduate-level classes, served in leadership roles on the Graduate Student Council and the Medical Consumers Advisory Council, and mentored undergraduate students in applying for competitive national scholarships. I also spent several wonderful years working as an EMT with MIT Emergency Medical Services, a full-service ambulance run by students and alumni. I graduated with my Ph.D. in Biological Engineering in June 2014.
Currently
I live in Houston, TX with my partner Alexander Lowe McAdams, who's completing her Ph.D. at Rice University. We enjoy good books, bad television, and wine tasting.